Meyers/Tahoe Paradise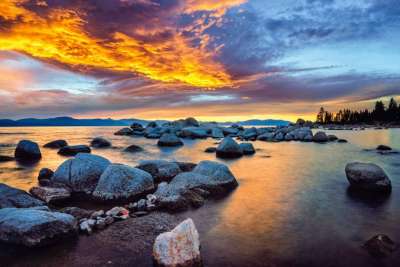 The Meyers/Tahoe Paradise neighborhood of South Lake Tahoe was originally established in the 1850's as a Pony Express Station, stagecoach stop and trading post, providing shelter for travelers journeying over Echo Summit. Now it is a mountain community with year-round outdoor sports and recreation opportunities. In fact, many Olympians and Olympic medalists hail from this small neighborhood. Located between Heavenly Ski Resort and Sierra at Tahoe, and a short drive to Kirkwood, there are many options for skiing and winter activities. Meyers also has golfing, biking, and hiking, as well as snowmobiling and snowshoeing in the winter time. Once you drive down Echo Summit and land in Lake Tahoe Basin, you're in Meyers, often called "The Gateway to Lake Tahoe".
Meyers lies at 6,352 feet between the Upper Truckee River on the west, Highway 50 on the east and north. The community has a grocery store, a hardware shop and lumber yard, and several restaurants and shops. There are also two golf courses; Tahoe Paradise and Lake Tahoe Golf Courses. Lake Baron and along the Upper Truckee river are great places to spend summer days enjoying the wonderful Tahoe weather. One can spend the day testing their fishing skills and water skiers can even ski on Lake Baron. Other amenities include tennis courts, a picnic area, play grounds, ball fields and mountain bike trails. The Upper Truckee River meanders along the perimeter. Although you may fell as though you are a world away, the city center is only 5 miles along U.S. Highway 50 at the intersection known locally as the "Y", only about a 5 minute drive.
You'll find all styles of homes in this area. Like most Tahoe neighborhoods, Meyers has its share of older classic cabins and A-Frames as well as ranch style homes, and larger contemporary homes. Many homes feature gorgeous views of the surrounding mountain ranges, golf courses, forested open land, or the Upper Truckee River. The Meyers/Tahoe Paradise neighborhood of Lake Tahoe is a great place to call home. For more information about the area click here.
Contact me today for more information about homes and land in the Meyers/Tahoe Paradise area!
Meyers and Tahoe Paradise Homes for Sale