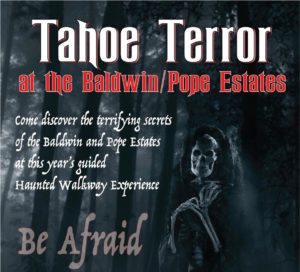 There are many fun Halloween events happening in Tahoe this month, but one not to miss is the Tahoe Terror Haunted Walkway Experience! All proceeds benefit the South Tahoe High School Key Club. My son will be one of many ghosts and ghouls you can expect to encounter along the spooky path through Baldwin/Pope Estates, so be sure to keep your wits about you. All the details can be found in the link to their website here, and by continuing to read below.
For the 2nd year running join us for Lake Tahoe's most haunting Halloween experience!
The Historic Pope and Baldwin Estates have once again been turned into South Lake Tahoe's most haunting Halloween experience, Tahoe Terror.
South Tahoe High students have transformed the estate into unimaginable scares, yet unsolved historical mysteries and ghoulish thrills that can't be found anywhere else. This event has all the ingredients of a truly spectacular outdoor Halloween experience, and the public can "enjoy" them (if they dare) nightly October 18, 19 and 20.
You'll be escorted along the creepy walkway through some "strange happenings on the haunted grounds" of the historic Pope-Baldwin Estates. Of course, the most devout locals can tell you all about the creepy sounds that permeate the grounds when the air starts to chill each autumn. (A look at last year's event)
Tahoe Terror at the Pope Estate is your chance to witness firsthand the unseemly nightly hauntings of the early 20th Century Pope family and servants.
Your support of this event benefits the South Tahoe High Key Club and Tahoe Heritage Foundation. This is a partnership with the US Forest Service, Lake Tahoe Basin Management Unit.
Friday, October 18, 6:00 – 8:00 p.m.
Saturday, October 19, 6:00 – 8:00 p.m.
Sunday, October 19, 6:00 – 8:00 p.m.
Ticket Windows: 6:00-6:30pm, 6:30-7:00pm, 7:00-7:30pm, 7:30-8:00pm
Limited tickets available per window, purchase yours ahead of time! Tickets sell out quickly. Purchase at the door not guaranteed (cash preferred). Tickets are $10 for adults, $5 for kids 6-12 and free for those under 6. They can be purchased here.
– Select a 30-minute ticket arrival window (note: you can arrive any time during that window)
– Haunted experience will take about 10 minutes
– Whole family is welcome to attend any showing
– Dress weather appropriate
The Tallac Historic Site is located 2 miles past the intersection of Highway 50 and Highway 89, just past Camp Richardson, on the lake side of Highway 89. Please turn right on the street with the sign "Valhalla." If the parking lot is full, feel free to park along Hwy 89 outside entrance. Due to the limited parking spaces at Valhalla, we encourage carpooling, bike riding and good old-fashioned walking. Parking is allowed in designated spaces only.